Rising trends – despite crises
Car manufacturers and suppliers already employ 110,000 highly qualified employees in research and development – and are still looking for a large number of engineers. Success – despite everything. The best example for this is the German automotive industry. Volkswagen has succeeded in pushing ahead of Toyota. With 10.3 million vehicles delivered, Volkswagen was 3.8% above the previous year's figure. Toyota came in at 10.17 million units.

Distribution of the total turnover of the German automotive industry
(Companies with at least 50 employees)
The other German manufacturers also increased their sales figures. BMW sold more than 2 million vehicles for the first time. Daimler reported a new sales record with some 3 million units and is expecting a slight increase in sales in 2017. Opel recorded a five-year high with 1.16 million vehicle deliveries.
Matthias Wissmann, President of the German Association of the Automotive Industry (VDA), could once again look back on a "good automotive year". In the top three markets of China, USA and Western Europe alone, the sector has sold a combined 4.5 million new vehicles more than in the previous year. And Wissmann is optimistic that the number will continue to go rise.
Employment in the German Automotive Industry
(Companies with at least 50 employees)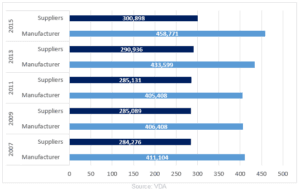 The ongoing upward trend continues to be reflected in employment. Especially for engineers there is a lot of work. In 1999 the VDA reported 58,000 academics in the industry. In its latest figures, the association reported 110,000 highly qualified employees in research and development (R&D). For suppliers, the proportion of academics has doubled within 15 years. Four out of ten engineers work for suppliers, the remaining 60% are with the manufacturers. Together, they invested nearly € 39 billion in R&D, € 21.7 billion of which was invested in Germany. This figure has also almost doubled since 2005.
Looking at the career prospects of engineering service providers such as Bertrandt, Edag, FEV or IAV, it is clear that more employment opportunities are becoming available. Hundreds of jobs still need to be filled. The industry is looking for engineers, software and electronics developers, calculation and test engineers, design engineers as well as positions in purchasing, marketing and project management. It is a similar situation with the suppliers with manufacturers of interior, electrics and electronics such as the Dräxlmaier Group or with the development of gearboxes at ZF Friedrichshafen AG.

Global recruitment in the automated and connected automotive sector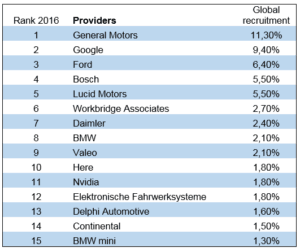 But how long will the current job boom go on for? How long will the industry continue to hold on to combustion engines before it completely switches to electric drives? Market surveyor Stefan Bratzel, director of the Center of Automotive Management (CAM) in Bergisch Gladbach, assumes that electromobility will gain momentum in the foreseeable future. "From the mid-2020s onwards, it is likely to have a significant impact on the workplace," he predicts.

The creeping reduction has already been used in the diesel engine sector. Ferdinand Dudenhöffer, Head of the CAR-Center Automotive Research at the University of Duisburg-Essen, is clear about his forecast. As early as 2030, there will hardly be any new cars with combustion engines in Europe and China. The future in the US is strongly dependent on further political developments.

Wissmann has mapped out the future of the combustion engine. By 2020 the world market will grow to 91 million new vehicles annually. Although electric vehicles are gaining market share, there is still growth potential for gasoline and diesel engines. Wissmann even speaks of a "second spring for the combustion engine". Petroleum-independent e-fuels, which will replace petrol and diesel ensure that combustion engines have an emission-free future.
Attachments

In:

Growth & Competitiveness