Learn more about future skills needs via the DRIVES Project Webinars!
DRIVES Consortium is organising a series of five webinars to mark the European Skills Week. The upcoming webinars will serve as an introduction to the Skills and Transformation of the EU Automotive Sector Conference and cover topics on Skills Intelligence, Job Roles and Training Implementation Plan, DRIVES Framework, and Apprenticeships.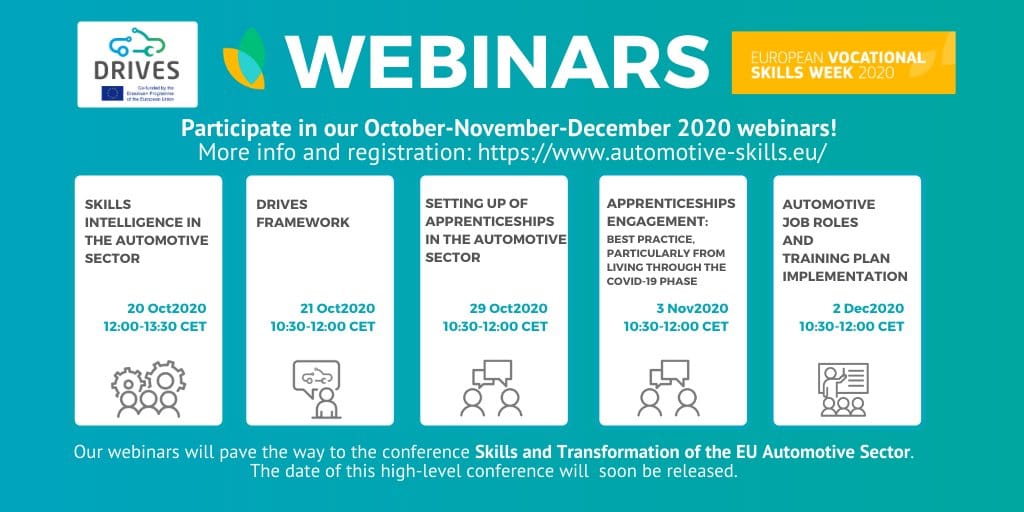 Mark your calendar with these upcoming webinars:
Skills Intelligence in Automotive Sector (20th October) – presenting the concept and promoting discussion among automotive stakeholders around the different Key Actions to collect different perspectives on the demand and offer sides for improvement of the envisioned roadmap for the sector.
Reference and Recognition Framework (21st October) – explaining the designed DRIVES EU-wide framework of harmonised competences.
Setting Up of Apprenticeships in the Automotive Sector (29th October) – policy makers from countries across the EU will discuss underlying principles of Apprenticeships in their countries: what the challenges are and what the future holds.  An Apprenticeship Marketplace report has been written and you'll be hearing from its authors on what they've found and their recommendations for the future.
Apprentices Engagement: Best Practices Particularly from Living Through the Covid-19 Phase (3rd November) –  focusing on the key theme of sharing good practice.  The employers and Apprentices will share their perspectives and participants will have the opportunity to share their experiences as well.
Automotive Job Roles and Training Plan Implementation (2nd December) – presenting an overview of the developed Job Roles for the Automotive Sector and inviting participants to join the FREE online learning courses (MOOCs) on the DRIVES learning platform.
All stakeholders interested in participating, please follow this link to register.
Attachments

In:

Growth & Competitiveness