ZF technology on the winner's podium of the 2017 Dakar Rally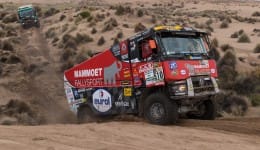 Trucks with ZF technology make it into first and second place with all other vehicles equipt with ZF technology making it into the top five.
ZF technology has passed an enduring test in South America during this year's Dakar Rally. The trucks traveled almost 9,000 kilometers from Asunción, the capital of Paraguay, to the Argentine capital Buenos Aires. On the way, the participants had to cope with extremely difficult terrain but were optimally equipped thanks to ZF technology providing reliable technology for the most difficult of challenges. The trucks were equipt with ZF's vehicle transmission systems from Friedrichshafen and Schweinfurt as well as distributors from Passau. The clutch, also from ZF reaches a maximum torque of 3,600 Nm and is particularly suitable for offroad applications thanks to its fine force dosing.
Source: www.zf.com
Attachments