Vienna Conventions from 1968 are still at the core of automated driving development and road safety efforts
At the turn of their 50th anniversary, the Vienna Conventions on Road Traffic and on Road Signs and Signals from 1968 are more relevant than ever. Reference to these legal texts, which are evolving with technological developments, is a necessity for countries around the world for facilitating the development of automated driving functionalities, as well as addressing critical road safety needs.
The United Nations Road Safety Conventions have a global scope and are important frameworks facilitating international road traffic through uniform traffic rules and harmonized road signs, signals, symbols and markings. The two conventions continue to develop in response to the most pressing challenges on the world's roads – from addressing the most critical road safety situations in low income countries to ensuring the safe introduction of new mobility technologies.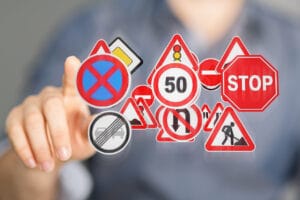 Created to increase road safety through the exchange of good practices in order to derive the best common solutions, the 1968 Convention on Road Traffic is the key legal instrument forming the basis for the majority of traffic rules around the world. There are 78 Parties to the Convention, in Europe, Africa, the Middle East, Asia and Latin America. Countries agree to transpose uniform rules of the road in their domestic traffic legislation for safe driving behaviour, as well as ensure reciprocal recognition of documents issued in conformity with these rules, which facilitates safe international road transport.
The 1968 Convention on Road Signs and Signals, which counts 66 Contracting Parties in Europe, Africa, the Middle East, Asia and Latin America, prescribes a harmonized system of signs and signals based on the use of shapes, colours, and the use of graphic symbols. This convention also sets out the requirements for road markings and defines the different types of markings and their colours.
50 years on, the conventions are continuously evolving to meet the road safety needs of today and tomorrow. 2016 saw a breakthrough for automated driving technologies with the entry into force of an amendment to the Convention on Road Traffic allowing the transferring of driving tasks to the vehicle, provided that these technologies are in conformity with the United Nations vehicle regulations or can be overridden or switched off by the driver. In September 2018, a new resolution on the deployment of highly and fully automated vehicles in road traffic was adopted, which is key to deploying automated driving solutions on European roads.
Source: UNECE. Read the full story at the UNECE website.
More information on the United Nations Road Safety Conventions:
Watch the video "50 years of safer roads: the 1968 Conventions on Road Traffic and Road Signs and Signals"
Attachments

In:

Connectivity & Automation