Supply chain disruptions clearly perceived as largest risk factor for automotive supply industry, CLEPA Pulse Check shows
• Sentiment on industry outlook has improved since COVID-19 but significant concerns remain
• Majority of suppliers noted the instability of supply chain as the major risk factor for the industry
• Key focus area of opportunity moving forward is sustainability
State of play
In this 10th edition of the CLEPA Pulse Check, results show that reduced volumes, mainly driven by semiconductor supply shortages, raw material price increases, and a rapid technology transformation are putting considerable pressure on automotive suppliers. Out of those surveyed, only 27% show a positive outlook for the industry, however, this is up from just 8% one year ago at the outset of the COVID-19 pandemic. Yet 73% still hold a notably negative view, which is considerably higher than pre-pandemic times. Volumes are not predicted to recover during the first part of 2022, and it's still unclear if they will recover in the second half of next year, and thus profitability projections for 2021 are not expected to be met.
"Supply shortages of critical minerals and semiconductor chips are causing a compounded risk for our industry during a crucial time of green and digital transformation. Shortages threaten thousands of supply chains and the millions of jobs that rely on them. Transparency, collaboration and flexibility are needed to mitigate and prevent future supply chain disruptions", said Sigrid de Vries, CLEPA Secretary General.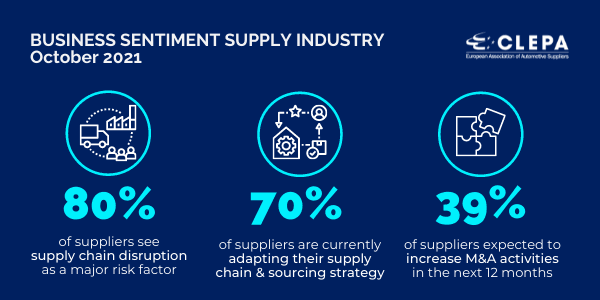 Situation moving forward
A closer look at the overall sentiment reveals that suppliers are adapting by moving away from firefighting and focusing on developing strategic changes towards security of supply. 70% of respondents stated that they are adapting the supply chain and souring strategy, such as an increased focus on dual-sourcing, closer relationships with semiconductor suppliers, and longer-term sourcing contracts. Suppliers are also looking for more equity in terms of burden-sharing with OEMs. "Suppliers and OEMs must work together to increase their visibility on demand along the entire value chain, with a clear commitment to a more effective collaboration," says de Vries.
Further, 53% of respondents believe in an increased importance of cash management in the next 12 months. This importance has further increased during recent months due to the compound effect of COVID-19 on top of semiconductor shortages. When asked where the biggest improvement opportunity is for companies, 55% of suppliers stated the optimisation of inventories. Another strategic adaptation foreseen is the increase of mergers and acquisitions (M&A). 39% of suppliers expect to increase their M&A activities in the next 12 months, with most of the activities (80%) happening between industry players.  Given the strategic changes foreseen, many market players are rethinking their future portfolios while trying to identify new growth opportunities.
Sustainability is key opportunity
We are seeing a new paradigm for corporations – a demand to demonstrate a shift from business-as-usual to more sustainable business practices. With the announcement of the European Green Deal and the recent 'Fit for 55' package, market watchers and players agree that end-to-end decarbonisation and circular economy are key factors which will call for significant changes in the industry. It is clear that the topic of sustainability is gaining relevance and seen as a key market opportunity for automotive suppliers.
Note to the editor
CLEPA, the European Association of Automotive Suppliers based in Brussels, represents over 3.000 companies, from multi-nationals to SMEs, supplying state-of-the-art components and innovative technology for safe, smart and sustainable mobility, investing over €30 billion yearly in research and development. Automotive suppliers in Europe directly employ 1.7 million people in the EU.
CLEPA, in cooperation with McKinsey who aggregate the data, surveys the full membership twice a year to measure outlook and sentiment of the industry.
Interested in more information?
You can contact CLEPA's Head of Strategic Communications Filipa Rio.
Attachments

In:

CLEPA News

,

Growth & Competitiveness