Sigrid de Vries attends the Global Ministerial Conference on Road Safety in Stockholm
Hosted by the Swedish government from 19-20 February and co-sponsored by the World Health Organisation, the 3rd Global Ministerial Conference on Road Safety analysed the results and lessons from the Decade of Action, a global pledge for the years between 2011 to 2020 targeted at reducing the number of road traffic fatalities by half. Participants also mapped the future directions to take in order to make the 'VisionZero' a reality, strengthening the link with the UN's Sustainable Development Goals, and pledging to give new impetus to achieving the road safety goals.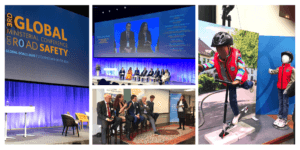 Globally, 1.35 million people die in traffic every year; with another 50 million suffering severe injuries. Road crashes are the biggest cause of death among young people worldwide. In 2019, about 25.000 people lost their lives on European roads, while counting 135,000 severe injuries. This number is significantly lower than only a few decades ago, but the decline is stagnating, in particular among so-called vulnerable road users. 
European automotive suppliers are actively contributing to improving road safety with advanced protective as well as preventive technology solutions, a number of which were put on show at various locations in Stockholm. Focus is extending from in-vehicle technologies to solutions focusing on the external surroundings as well, using sensor technology and connectivity to prevent accidents from happening in the first place, as well as mitigating the impact of accidents for pedestrians, cyclists and motorised two- and three-wheelers. 
Sigrid de Vries, CLEPA Secretary-General, actively participated in the conference with a speaking engagement in the high-level panel "Building Effective Leadership for Road Safety" as well as engaging with ministers, European officials and other delegates in the networking sessions. She stressed how technology leadership and pro-active collaboration with academia and infrastructure operators contributes to making mobility safe, smart and sustainable.  
"Great vehicle technology and safe infrastructure are key in the mix to safe lives on the road," said De Vries. "Analysing and learning from traffic-generated data can help building and strengthening trust in the mixed traffic ecosystem. Road safety requires continuous efforts and concerted action. To achieve the Vision Zero, attention is shifting to vulnerable road users like (motor)cyclists, scooters and pedestrians, both at political level and in industry. Automotive suppliers are once again breaking ground with innovative preventive as well as protective technologies." 
Europe's Transport Commissioner Adina-Ioana Vălean highlighted that Europe is implementing a so-called Safe System approach, which is a holistic system that builds on cooperation, good governance and shared responsibility. It addresses all areas: infrastructure, vehicles, behaviour and post-crash care. 
CLEPA also attended a number of side events, including the iRAP 2020 Innovation Workshop, co-hosted with the ITF and the World Bank. The plenary session aimed at discussing the 2030 targets and how to use data to save lives. The CLEPA Secretary General engaged in the panel discussion on "How Can Big Data and AI Make a Step Change in Safety?"  
Minister-led delegations from more than 80 countries and representatives from industry and research centres, international institutions and organisations attended the conference. 
Attachments

In:

CLEPA News

,

Safety