New CLEPA position paper calls for a swift introduction of legislation on access to in-vehicle data and resources
• Competition in the EU mobility data space is currently at risk
• A sector-specific proposal is essential by Q2 2023 to allow scrutiny by co-legislators within this parliamentary term
Brussels – As recently outlined by the Independent Service Providers (ISPs) grouping in a letter sent to the European Commission President, Ursula von der Leyen, access to in-vehicle data requires the urgent introduction of regulatory guidance. The continued delay risks access to the untapped potential in creating real competition for consumers and companies all over the EU. CLEPA, jointly with the mobility service ecosystem, called on the Commission and has published a new position paper with insights on why the Data Act will not ensure a level playing field for the use and sharing of in-vehicle data, and how the current absence of regulation is impacting companies and consumers, with recommendations on key aspects needed for a successful sector-specific regulation.
The Commission's proposal for a horizontal regulation on harmonised rules on fair access to and use of data (Data Act) was published on 23 February 2022. The Data Act proposal provides a horizontal framework. However, a complementing sector-specific regulation is needed to remove existing roadblocks in the deployment of innovative services and to foster investments in the use of in-vehicle data and resources.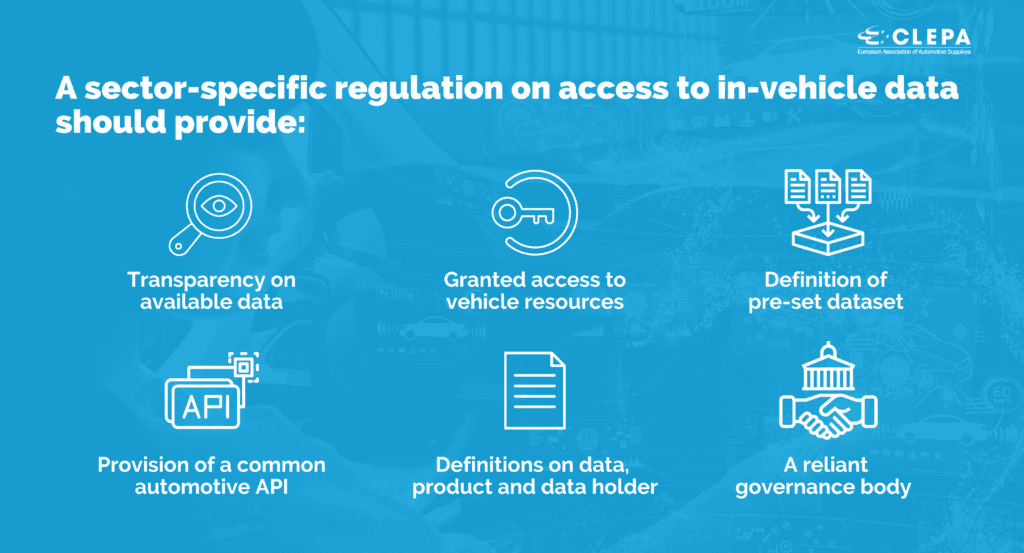 Strong competition between vehicle manufacturers and the independent aftermarket has ensured a fair level playing field in the past, leaving consumers with free choice on where to obtain a vehicle service. Any privileged position of competing players regarding data access will limit consumer choice.
CLEPA calls for a sector-specific legislative proposal to be presented in Q2 2023, as a revision of the type-approval regulation, in order to secure its adoption under the current parliamentary term.
Read CLEPA position paper on access to in-vehicle data
Attachments

In:

Aftermarket

,

CLEPA News

,

Growth & Competitiveness