Automotive Aftermarket: McKinsey study confirms growth of 3% p.a.
 – but the repair and maintenance market will change substantially.
A new independent study on the automotive aftermarket business published by Mc Kinsey expects the market to grow globally by 3% per annum by 2030. The aftermarket is continued to be seen as an important pillar of the entire automotive business with increasing relevance in Asia, especially China, as the main driver for growth. Beside an outlook on the future portfolio and geographical differences, the study looks at economic and technological trends with the potential to disrupt the automotive aftermarket over the next 5 to 10 years.
The McKinsey study shows how market players will face challenges from the increasing pace of industry consolidation, especially in North-America and Europe. In addition, many players have conducted business over decades in a relatively stable environment will face a new type of competitive pressure from players at different stages of the aftermarket value chain as well as from new players offering digital-driven business models. Frank Schlehuber, Director Aftermarket at CLEPA, says: "While autonomous driving and electrification receive nearly daily press attention the most considerable game changer for the aftermarket will be connectivity and data-based business models. It is happening now and it is developing fast".
The study finds that the automotive aftermarket is undergoing dramatic changes with evolving customer expectations, acceleration of technological innovation, and shifts in competitive power. The changes will reshape the way consumers, automotive suppliers, and other aftermarket companies think of cars and driving and how business in the automotive aftermarket is conducted and value is created. 80% of automotive suppliers and industry representatives stated in the survey that they are not well prepared for these changes. 42% of suppliers expect the profitability of their service and maintenance business to deteriorate over the next ten years, while only 29% expect the margin to improve mainly driven by new business opportunities from the digitisation of channels and in-vehicle data driven services. "Therefore in the interest of a fair and undistorted competition in the aftermarket and providing innovative services around mobility, it is important that all market participants will have equal access to in-vehicle data and resources", says Frank Schlehuber.
The study identifies six trends that suppliers should face:
Consolidation of market players will continue in Europe, especially among distributors and wholesalers. A situation like North America is not unrealistic where there are four leading car parts distributors representing 40% of the market.
Vehicle manufacturers are expanding into the independent aftermarket business and strengthen their efforts to retain consumers in their own service networks over a longer period.
Digitisation will increase sales of car parts as well as repair and maintenance services via online channels.
Access to in-vehicle data will become increasingly relevant. Car-generated data can help to better understand the customer needs and to provide services even faster or already pro-actively with early warning information in case of a predicted possibility of a breakdown.
New competitors with digital consumer expertise are trying to secure a part of the automotive market for their business, for example fleet management providers or insurance companies.
Digitisation will increase price transparency. Up to 30% of customers in Europe inform themselves about favourable workshops in advance.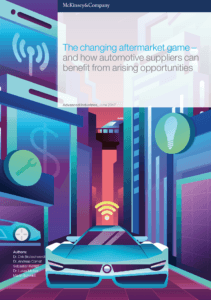 Download the McKinsey study here:
Attachments