Industry4Europe coalition publishes a new Joint Paper calling for an ambitious industrial policy in Europe
The Industry4Europe coalition, of which CLEPA is a member, has today published a new Joint Paper to inform the EU debate on an new, ambitious industrial policy for Europe.
The Joint Paper makes recommendations with regard to the governance structure for such policy, which should facilitate dialogue as well as concrete implementation of actions.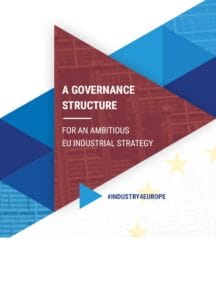 The Joint Paper was presented this morning to the Austrian Chairman of the Council High-Level Group on Competitiveness and Growth and will be shared with all Permanent Representations as well as with the European Commission.
With its first Joint Paper "For an ambitious EU Industrial Strategy: Going further" (October 2017), the Industry4Europe coalition called for a long-term vision for Europe's industry which demands a long-term governance structure going beyond the 6-month EU Presidency cycle and the 5-year mandate of the current European Commission. Such a governance structure should enable the Commission, the Council and the European Parliament, together with industry stakeholders, to develop a common vision for a smart, innovative and sustainable industry.
Existing policies, initiatives and tools, addressing the challenges and gaps, including those described in the Commission's Communication "Investing in a smart, innovative and sustainable Industry: A renewed EU Industrial Policy Strategy" of September 2017, should be reviewed in order to develop and implement a long-term comprehensive EU Industrial Strategy as well as for monitoring its progress on a regular basis.
Download the Joint Paper 2018-07-Industry4Europe – Joint Paper on Governance
Attachments

In:

Growth & Competitiveness