#GreenANDJust: An effective mobility transition should be about emissions reductions and the social dimension, not a technology ban
Representatives from the European Commission, Council, the mobility industry and academia analysed the challenges and opportunities of the green and just mobility transition

 

A recent study commissioned by CLEPA and carried out by PwC Strategy& found that an EV-only approach, as currently proposed in the 'Fit for 55' package, will put over half a million jobs at risk

 

Organisations of the mobility technology industry ask policy makers to ensure a manageable transition to avoid disruption, and insist on the benefits of a 

mixed-technology

 scenario
The upcoming weeks will mark important legislative milestones for the future of European road transport, and these are crucial times to consider what is at stake for the multiple pieces of the complex regulatory framework that is the "Fit for 55" package. To reach climate objectives, rapid electrification is a must, but how we get there requires careful consideration. Currently, around 600,000 automotive supplier jobs in the EU rely on the production of internal combustion engine powertrains. A recent study commissioned by CLEPA and carried out by PwC Strategy& found that an EV-only approach, as currently proposed in CO2 standards, will put over half a million of those jobs at risk. With the aim of taking a closer look at what these figures mean in practice and providing a platform for a compelling exchange of views by key stakeholders, CLEPA, the European Association of Automotive Suppliers, organised the public online debate, 'The Sustainable Mobility Transformation – Green AND Just?' on 11 January. 
European Commissioner for Jobs and Social Rights Nicolas Schmit provided the Keynote, raising the importance of assessing the employment impact of the sector transformation: 
"The automotive sector in general is a big deal when it comes to European total employment. Although this transition to climate neutrality will create opportunities, it will also disrupt our economy, and a certain number of sectors, with an impact on our labour markets… The green transition will only be successful if fairness, solidarity, and social measures are at its heart. The Commission welcomes CLEPA's recently published study. We must produce precise forecasts regarding the employment, social and distributional impacts of this green transition. As described by CLEPA's study, Europe IS on the transition path."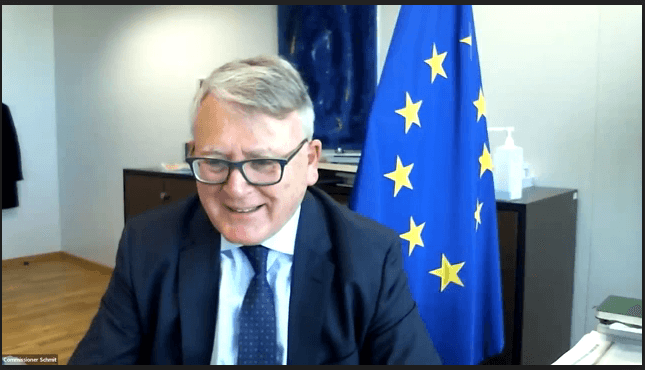 European Commissioner for Jobs and Social Rights Nicolas Schmit during his Keynote address on 11 January 2022
Asking the difficult questions, Financial Times' Correspondent Joe Miller guided a panel debate with representatives from the Council, mobility and consumer sectors, as well as academia. Gábor Baranyai (Ambassador, Deputy Permanent Representative of Hungary to the EU), Laurianne Krid (Director General, FIA Region I), Stefan Pischinger (Professor at the RWTH Aachen, CEO of FEV Group) and Sigrid de Vries (Secretary General, CLEPA), looking at the results of our latest study, which Henning Rennert, Partner at PwCStrategy&, presented to the audience.  
The Electric Vehicle Transition Impact Assessment 2020-2040 is the first of its kind, evaluating three different transition scenarios until 2040, focused on powertrain production in the auto supplier industry. The assessment further identifies the risks and opportunities in seven major production countries for automotive components.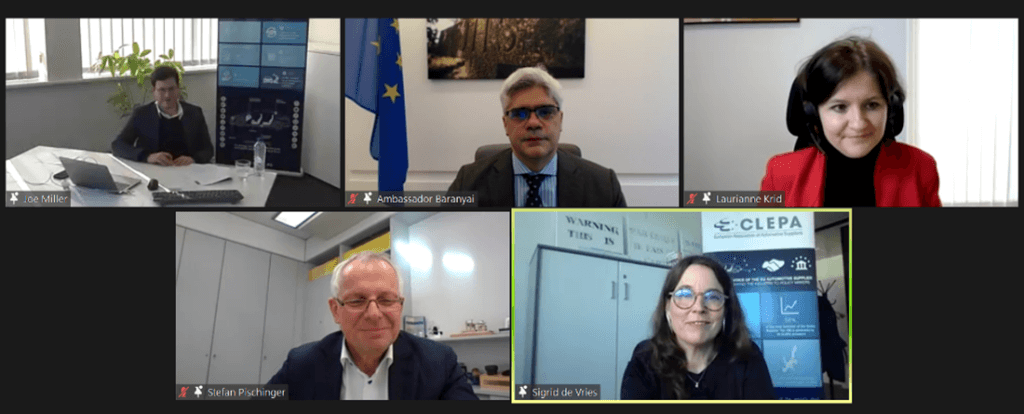 Moderator Joe Miller (Financial Times), Ambassador Gábor Baranyai (Deputy Permanent Representation of Hungary to the EU), Laurianne Krid (FIA Region I), Stefan Pischinger (RWTH Aachen, FEV Group), and Sigrid de Vries (CLEPA) during the panel discussion on 11 January 2022 
On the key question, why automotive suppliers must have a say in the current mobility debate, it is crucial not to underestimate the employment capacity of the industry: The automotive sector is directly responsible for more than 8.6% of the overall manufacturing employment, with more than 60% of workers employed by automotive suppliers. This means 1.7 million direct jobs in the European supplier industry. The study found that a hurried transition will put over half a million of these jobs at risk. 
The study results also show that 70% of these jobs losses will occur in just a 5-year period, between 2030 and 2035, causing serious time pressure for SMEs and regions. While automakers have greater capacity to divest or insource activities to compensate for a loss of activity in the powertrain domain, automotive suppliers can react with less agility, as they are bound by long-term contracts with vehicle manufacturers. In addition, hundreds of specialised companies and SMEs have less access to capital to invest in the transformation of their business models. 
 "The automotive supplier industry is deeply connected with regional economies, composed of global leaders as well as many innovative SMEs. It is critical that we put automotive suppliers front and centre when managing the social and economic impacts of the transformation. We believe that a successful transformation starts with knowing the stakes. Obviously, emissions have to go down, and we fully support accelerated electrification as part of the solution, but we also need a transformation that is both Green AND Just", says Thorsten Muschal, President of CLEPA and Executive Vice President of Sales and Program Management at Faurecia.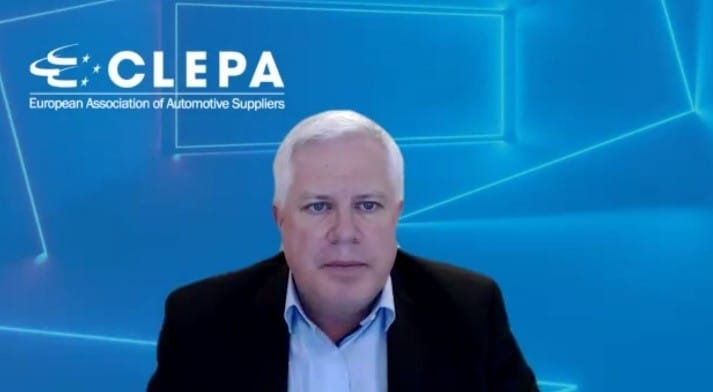 CLEPA President Thorsten Muschal (Faurecia), setting the scene during the online event on 11 January 2022 
Opportunities for a mixed-technology scenario 
The study shows a potential option for a brighter future for mitigating employment while still reaching climate objectives. According to the results, a mixed technology scenario would provide Europe with a safety net, consisting of all technology solutions that can play a role in reducing emissions. By complementing electrification, a mixed technology approach, allowing the use of sustainable renewable fuels, could deliver a minimum 50% CO2 reduction by 2030, while maintaining jobs, creating value-add and maintaining EU competitiveness in the global market. Additional volumes of net-carbon fuels can bring us to climate neutrality by 2050. 
The situation is very different from country to country. A one-size fits only approach would entail different levels of effort depending on the capacities of each Member State. In the study, Western European countries appear best placed to be strongholds in EV powertrain production, while employment in Central Eastern European countries will remain highly dependent on the internal combustion engine. "This sector is very significant for Hungary, it represents 5.6% of the GDP, and 170,000 jobs – that's 4% of the total Hungarian workforce" explained Ambassador Gábor Baranyai, Deputy Permanent Representative of Hungary to the EU.  
CLEPA's Secretary General, Sigrid de Vries, raises the stark warning from the study that an EV-only approach puts over half a million jobs at risk. "I believe there is not enough attention for the challenges associated with this transition. The emphasis often goes to the positives, of which there are many, but it doesn't take away the fact that this transformation concerns real people and businesses. We see a focus on technology preferences, and we are concerned about the social dimension and the risks being downplayed." 
According to Professor Stefan Pischinger, "Electromobility is an inevitable building block to achieve the CO2 reduction targets, but it doesn't help the existing fleet – 1.6 billion vehicles worldwide – to become carbon neutral. The combustion engine itself is not the problem, but the fossil fuels. If the ultimate goal from policymakers is to achieve this CO2 reduction, which is absolutely necessary, we cannot leave out, for ideological reasons, different technologies that can achieve this." He goes on to say, "If we say goodbye to the ICE, we miss the development and engineering where there is further potential for even cleaner and more efficient engines, other parts of the world are doing this, like China who has made this strategic decision." 
Director General of FIA Region I, Laurianne Krid, also emphasised the need to provide drivers with the technical and relevant information to make their purchases and boost affordable options: "For mobility users it is very important to have an overview of the real carbon footprint, and what will allow us to do that is a 'well to wheel' approach. They need a real picture of what each technology can do." She goes on to say, "In the next 10 years, people are not going to change their vehicle, it's an important asset and a big investment for families," further underscoring the need for affordable fuels to decarbonise the existing fleet.  
Automotive suppliers are on the move and ready to smooth the path towards a green and just mobility transition. Supplier companies, associated in CLEPA, have actively contributed to several assessments and are adapting their product portfolios, as illustrated by our most recent Pulse Check survey. In addition, the study´s methodology is complementary to previous studies (available through CLEPA's employment portal, as it models figures from a company perspective.  
Find out more about the study
Attachments

In:

CLEPA News