Faurecia and ZF enter in a Strategic Partnership
ZF and Faurecia, both leading global systems suppliers for cars and trucks, will cooperate in a strategic partnership for the development of disruptive and differentiating interior and safety technologies for autonomous driving. Within this special advanced engineering partnership, the two companies will identify and develop innovative safety and interior solutions linked to different potential occupant positions.
Patrick Koller, CEO of Faurecia: "This partnership will mark another important step for Faurecia in the development of an innovation ecosystem for technology solutions for the Cockpit of the Future. Our strong combined customer intimacy and our common vision will enable us to provide a unique technology offer ensuring the safety of the vehicle occupants in various autonomous driving use cases."
Dr. Stefan Sommer, CEO of ZF: "Together we will be stronger. Vehicle electrification and autonomous driving need innovative active and passive safety technologies to become a success. As one of the global leaders in safety, ZF is committed to delivering integrated safety concepts together with our partner Faurecia."
The collaboration will be based on shared expertise and competencies and will involve no capital exchange. "Networked ecosystems are not only at home in Silicon Valley," said Dr. Sommer, "ZF and Faurecia believe that the ecosystem philosophy also works between Paris and Friedrichshafen to provide a unique offer to our customers everywhere in the world."
Patrick Koller added: "Our customers will benefit greatly from this partnership. Together, we can offer complete interior safety features to meet the future challenges which will allow the interior of the future to be safe, connected, versatile and predictive." Depending on customer preferences both companies will also continue to work independently on current and upcoming projects.
Highly flexible and comfortable interiors which still offer the highest active and passive safety will be the key drivers for the adoption of different interior configurations. In particular, the seats will integrate a significant part of the safety devices enabling them to swivel and recline or allowing an efficient return to driving mode.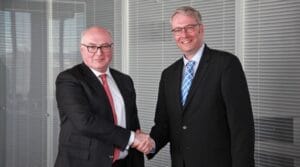 Faurecia-CEO Patrick Koller and  ZF-CEO Dr. Stefan Sommer.
Source:
Attachments