EPO published a study on patent applications for self-driving vehicles
The European Patent Office (EPO) has carried out a study providing a broader picture of patent applications in the field of connected and automated driving (CAD). As a more diverse range of industrial enterprises is becoming involved in the CAD sector, this helps to identify trends, origins and nature of connected and automated driving technologies. The core analysis of this study is based on patent applications ranging from 2011 until 2017 from EPO, which allows the creation of comparable and up-to-date statistics.
Results of the study reveal that the number of patent applications on self-driving vehicles has been constantly increasing over the last six years. With a growth rate which is more than 20 times faster than for patent applications in general, CAD related patent applications increased by 330% from 2011 to 2017. In total, almost 18 000 patent applications related to CAD have been registered over this amount of time.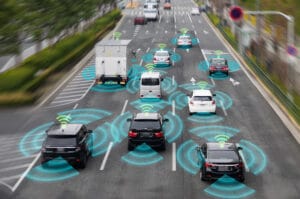 A second finding of the study shows that CAD related patent applications emerge from both automotive and tech industries. By analysing the first 25 applicants at the EPO from 2011 to 2017, 12 of them operate in transport or related industries with the other part coming from the ICT and telecommunications industry. Several automotive suppliers companies are part of the top applicants in SDV (Self-driving vehicle) technologies.
Last but not least, data provided by the study disclose that Europe and the US are the leaders of CAD innovation. Both had almost 1 400 patent applications in 2017, which is, compared to other significant countries like Japan (468), the Republic of Korea (382) and China (194) a manifold amount.
In general, one can conclude that a more diverse range of industrial enterprises is becoming involved in the CAD sector, coming from both the automotive and technology field. The study suggests that extremely innovative automotive firms must adapt to "disruptive digital technologies coming from other, equally powerful industries, such as wireless communication and big data."
You can access the entire study here:

http://documents.epo.org/projects/babylon/eponet.nsf/0/65910DF6D3F02057C125833C004DB1E6/$File/self_driving_vehicles_study_en.pdf
Source: EPO, CLEPA
Attachments

In:

Connectivity & Automation