ENSEMBLE project presented during the EPTC network workshop
On 20 and 21 November, a "European Truck Platooning Challenge" (ETPC) network workshop was held in Brussels, where the project ENSEMBLE was presented. The project, of which CLEPA is a partner, will implement and demonstrate multi-brand truck platooning on European roads over the next three years. The main aim of the ENSEMBLE project is to ensure safe platooning when using different branded trucks and carry out impact assessment for infrastructure, road safety and traffic flow.
The project was also presented during the 25th ITS World Congress in Copenhagen, where the Project coordinator outlined the benefits of platooning and the future development of the platooning market to a packed audience at the ITS World Congress workshop 'Transforming Freight Movement through ITS'. At the event, ENSEMBLE project was also showcased at the European Commission stand.

The main goal of the ENSEMBLE project is to pave the way for the adoption of multi-brand truck platooning in Europe to improve fuel economy, traffic safety and throughput.
The ENSEMBLE project is strongly endorsed by the European Commission. It is hoped that the ENSEMBLE project will pave the way for the adoption of multi-brand truck platooning in Europe and eventually improving fuel economy, CO2 emissions, traffic safety and efficiency throughout the road freight sector.  The goal of the EU-funded ENSEMBLE initiative is that multi-brand truck platooning will soon become a reality in Europe.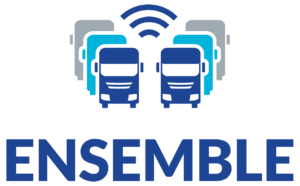 Learn more about the project on the ENSEMBLE website https://platooningensemble.eu/
Attachments

In:

CLEPA News

,

Connectivity & Automation