CLEPA participates in the gathering 'Suppliers in Motion. Vision of the Future' organised by Sernauto
The event "Suppliers in motion. Vision of the future" took place in Madrid last 13th December, in the framework of the Climate Summit (COP25). The gathering was organised by the Spanish Association of Automotive Suppliers (SERNAUTO).
The event was held in collaboration with the Ministry of Industry, Commerce and Tourism, with the aim of advancing the role of automotive suppliers in ensuring a more sustainable form of mobility, as well as the levers that must be activated to successfully address the climate emergency and the transformation process in which we are immersed.
CLEPA Secretary General presented the industry vision paper "Future as we move":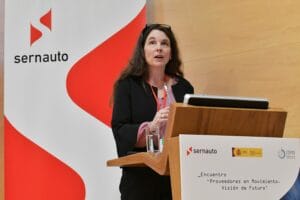 "The European automotive suppliers industry calls for the establishment of a Digital Single Market for Mobility, to go hand in hand with a European master plan for the industry. They are both essential to achieve the environmental objectives that the 'Green Deal' has set, as well as take advantage of the potential of technology, with the deployment of connected mobility and automated driving. These measures will strengthen European competitiveness, supporting the role of suppliers as an engine of transformation towards sustainable, safe and intelligent mobility".
The Minister of Industry, Trade and Tourism, Reyes Maroto, closed the event highlighting and thanking the sector's commitment to innovation and sustainability. "You are suppliers in motion," she stated, contributing largely to innovation, "with more than 1.5 billion euros and making it one of the largest private investors in Spain". She also added, "a good part of this technological innovation has a great impact, not only on passenger safety, but also on a significant reduction in energy costs and energy efficiency. Your contribution to sustainable and intelligent mobility is strategic for the Spanish and European economy.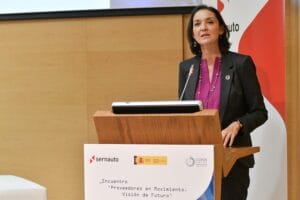 Attachments

In:

CLEPA News