CLEPA is collecting stories of technology & research aid initiatives undertaken by automotive suppliers during the COVID-19 health crisis
As well as substantial donations during the health emergency of 2020, many companies from the mobility ecosystem proactively used their facilities to develop technologies and produce brand-new protective equipment and items which hospitals and society at large needed to relieve the impact of COVID-19. CLEPA took note of these examples earlier in the year.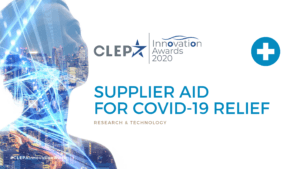 Considering the important role that these initiatives played for society, we would like to continue giving them visibility. That is why CLEPA will dedicate part of its Innovation Week (from 19 to 24 November) to highlighting such technology contributions via its communications channels. Therefore, we would kindly ask you to share with us the story of what your company has done, by sending an email to communications@clepa.be by 5 November. The email should include the following information:
A few lines on the item produced, the technology developed, or the research project to which your company contributed
How this has helped to relieve the health emergency
A picture of the technology or an image that illustrates the preparation process, if possible
A link to more detailed information on the topic on the site of your company
Thank you for your contribution. We are very much looking forward to reading your stories!
Attachments

In:

CLEPA News

,

Research & Innovation

,

Safety