CLEPA and high-level stakeholders discuss the Smart and Sustainable Mobility Strategy
The European Association of Automotive Suppliers, CLEPA, hosted the 'Accelerating the transition to sustainable and smart mobility' panel debate just after the 2021 General Assembly last 9 June, with high-level agents from industry, EU Parliament, and stakeholders to discuss the EU's Smart and Sustainable Mobility Strategy (SSMS).
This strategy puts a focus on both the 'green' and 'digital' transformation of transport and announces, with particular interest for the automotive industry, several legislative proposals including the revision of the regulation of C02 fleet targets.
The panel consisted of Ismail Ertug, Member of the European Parliament (MEP) for the Social Democratic Party of Germany and rapporteur on the Mobility Strategy, in the Parliament's TRAN Committee, Darko Levičar, transport attaché at the Slovenian permanent representation, the country holding the rotating EU Presidency in the second half of 2021, Laurianne Krid, head of the European region of the Federation International Automobile's (FIA) representing over one hundred automobile clubs and their over 36 million car owners and users, and CLEPA President Thorsten Muschal, member of the board of the French multinational Faurecia. The debate was moderated by CLEPA's Secretary General Sigrid de Vries.
Different opinions on the strategy were shared during the event, highlighting the importance that a technology open approach will play in supporting the market in the uptake of the most efficient technologies that cater to consumers and their diverse mobility needs.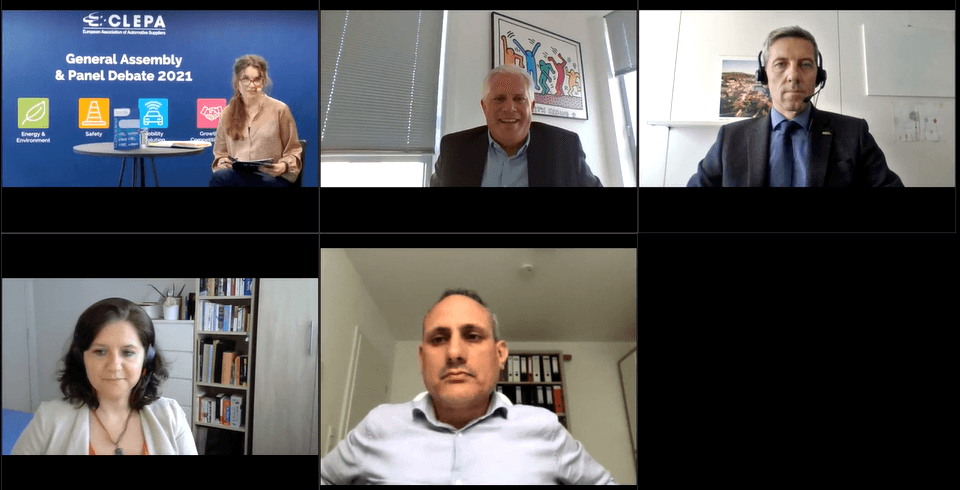 The role of renewable fuels was discussed, with e-fuels indicated as a viable method in making the transition more manageable through the diversification of carbon-reducing methods so the EU is not solely dependent on electric vehicles to meet consumers' and small businesses' mobility needs.
CLEPA highlighted how the expected ambitious CO2 targets require taking 'well-to-wheel' emissions into account via a voluntary crediting scheme for climate-neutral fuels. This to be combined with ambitious targets in the renewable energy rules and a revision of the energy taxation directive to remove inconsistencies.
It was widely agreed that the social impact of this transition will need proper attention and that correctly placed EU funds in education, up and reskilling programmes, can must help manage this challenging time for an effective and inclusive transition.
Attachments

In:

CLEPA News

,

Connectivity & Automation

,

Environment & Energy