CLEPA 60th anniversary celebration peaks with a landmark event in Brussels
Over 300 participants attended the  "Future As We Move – Shaping Solutions For Mobility" event yesterday in Brussels, organised by CLEPA, the European Association of Automotive Suppliers, featuring a conference opened by France's Minister for Finance and Economy, Bruno Le Maire, and Germany's Federal Minister for Economic Affairs and Energy, Peter Altmaier. Their speeches were followed by the presentations from the industry leaders Volkmar Denner, CEO of Robert Bosch; Jordi Lombarte, CTO of Autoliv; Jörg Stratmann, CEO of MAHLE and Ingo Stürmer, Global Engineering Director for ADAS and Autonomous Driving of Aptiv. 
The subsequent panel debate focused on European technology leadership and the mechanisms needed to harness the power of innovation. The panel was made up of representatives of regional authorities (Claudia Suppan, Coordinator CoRAI – Committee of the Regions – Automotive Intergroup), the EU institutions (Member of the Parliament, Vlad-Marius Botos), and industry represented by Patrick Koller, CEO of Faurecia, Wolf-Henning Scheider, CEO of ZF, and the start-up founder Jon Lindén, serial entrepreneur and CEO of Ekkono. The conference closed with remarks from the new European Commissioner for Jobs and Social Rights, Nicolas Schmit.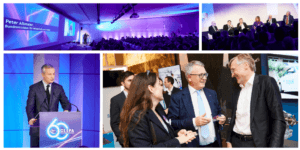 To emerge in the vision that CLEPA and its members share, attendees had the opportunity to discover the latest technologies from leading automotive supplier companies in the Techxpedition, an interactive exhibition that immersed the participants in the future of mobility.  Over 20 companies showcased their innovative solutions that embodied the four pillars of CLEPA's vision of mobility for the future: safe, sustainable, smart and competitive.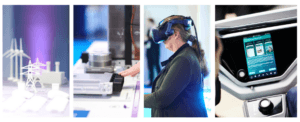 Looking towards a future that is sustainable, a wide variety of solutions were presented such as fuel cell technology, water injection systems, automotive parts made from smart bioplastics, electro chargers, plug-in hybrid transmissions, dust and air filter systems and sustainable mobility ecosystems. 
Envisioning a future with zero casualties, our technology leaders displayed airbags for pedestrian protection, warning systems for endangered drivers, vehicle alerting systems for pedestrians, unattended child detection signals and driver monitoring systems. 
Preparing a future that is smart and connected, our participants were immersed in virtual reality experiences, such as voice-activated navigation control, incremental machine learning, intelligent charging systems and EV intelligent range predictions. 
And, with connectivity transforming mobility as we know it, our automotive suppliers showcased a marketplace platform for new businesses to build customer bases, software-based solutions and the latest developments in automotive technology, communication systems between vehicles and road users, and technology present in vehicles' structures. 
Thank you to Autoliv, Bosch, Brigade, Caruso-dataplace, CLEPA Light.Sight.Safety Group, Continental, Denso, Ekkono, Faurecia, Gestamp, IEE, Mahle, Mann+Hummel, Plastic Omnium, Röchling Automotive, Schaeffler, Spark EV Technology, Valeo, Yazaki and ZF for showcasing the future of mobility.  
The anniversary event ended with a celebratory dinner, with a reflective speech by the departing CLEPA president, Roberto Vavassori, and an exchange about Europe and the future of industry between Sigrid de Vries, CLEPA Secretary General, and Günther Oettinger, the former European Commissioner for Budget and Human Resources, to recognise his work and the legacy he leaves behind.  
Do not miss the event's main visual highlights:  
Attachments

In:

CLEPA News

,

Connectivity & Automation

,

Environment & Energy

,

Growth & Competitiveness

,

Safety