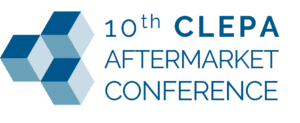 In the year of CLEPA's 60th anniversary, CLEPA will hold its 10th Aftermarket Conference in Brussels's Steigenberger Wiltcher's Hotel, on March 27 and 28, 2019. We will highlight and discuss with an interested audience the future challenges in the Ability to lead in a digitalising environment. We have invited top speakers from the industry, European institutions and service providers to share with us their view on the latest trends in Aftermarket and mobility platforms.
PROGRAM
Preliminary programme
Networking Dinner
Wednesday 27th March 2019 | 18:00 – 22:30
Conference:
Thursday 28th March 2019 | 08:00 – 15:00
Are you interested in the
10th CLEPA Aftermarket Conference
As a venue we have chosen the "Steigenberger Wiltcher's Hotel" in Brussels (Belguim) downtown. Set among the upscale shops of Avenue Louise, this hotel is 1.3 km from the Royal Museums of Fine Arts. It's also 1.5 km from the Royal Palace of Brussels. We have reserved quotas of rooms that will be available shortly for booking at special CLEPA rates.
IMPRESSIONS OF THE LAST AFTERMARKET CONFERENCE
EXHIBITION & SPONSORING
New to this year's Conference is the exhibition that will showcase a wide range of innovations, and give interested companies a chance to present themselves. Use this opportunity to showcase your brand directly to European decision-makers and trade specialists. Our central location will allow us to attract even more members of the European Parliament and invited members of the European Commission along with delegates from the Permanent Representations. With your support, we can make the CLEPA Aftermarket Conference another forward-looking event.
Do you know we offer
sponsorship and exhibiting opportunities?